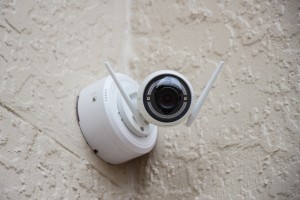 Camera Types, Placement & Features For Home Security Systems

As technology continues to adapt and enhance so do the options to protect your family with a range of security system options.
One of the most popular ways to protect your family and property is to install a home security system. Having these cameras can help to monitor home activity and deter potential burglars from breaking in.
Consider these key tips below before purchasing a home security system.
Types Of Security Cameras Available
Select a security system that suits the needs of your home. When choosing a security system consider the layout of your home, the size of each room, specific areas that will need CCTV coverage and how you will be using the security system on a daily basis.
Cameras styles to think about:
– Day/Night: Used mainly for outdoor services
– Bullet: Designed to be pointed in a specific direction, mainly used indoors
– Dome: Designed to spin quickly within its location
– Varifocal: Allows operators to zoom in and focus on images
-Infrared Vision: Designed to capture images in complete darkness
Bare in mind that you may need more than one type of security camera for certain areas of your home. You can work with 1st Ace Security, your local trusted security provider to help you identify the cameras you will need.
Features Of Security Cameras
You should consider what features you would want from a security system or the essentials you may need from a camera. Here are some key features you could consider:
– High Definition Resolution
– Motion Activated Sensors
– Night Vision
– Remote Viewing Capability
– Wireless Access & Control
– DVR Hardrive For Storing Recorded Footage
Placement Of Security Cameras
Lastly you will want to consider the placement of your cameras. Knowing where you specifically need cameras will help determine how many you need to purchase and what style is needed.
The main focus points for your camera placement should be:
– Back Windows: Burglars are likely to take a less public view into your home
– Front & Back Doors: The front and back doors are the most common location of entry for a burglar
– Side Gate: Gains access to the rear of the property
Placing cameras throughout your home in the optimum placement is vital to an all-round effective security system. Use best judgement when selecting placement. If you feel a certain area needs CCTV coverage its best to place a camera there.
If unwanted visitors are drawn to your property, it is important to have a system in place which can prevent them from entering your premises. Our NSI Gold approved team work throughout London, including the areas of South London, South East London and Central London, so if you are looking for a reliable method of access management, choose access control in Central London from 1st ACE Security.
Do you want to discuss how we can design a bespoke system tailored to match your exact requirements? Get in touch today to learn more about the security solutions we can provide. Visit our website 1st Ace Security or call us on 020 8290 5050.