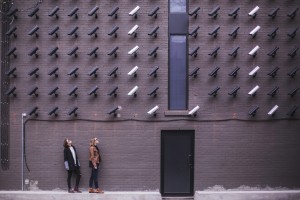 Does Business Security Signage Help Prevent Break Ins & Theft?

Shoplifting and other theft causes millions of pounds of loss to businesses annually. Many businesses opt to place visible security signage to ward off any potential criminals from stealing goods from their premises.
Security signage can offer peace of mind to business owners but its important to understand its effectiveness as a deterrent. Loss Prevention Magazine conducted surveys with shoppers to see if they noticed security signage and if it changed their behaviour or the way they felt.
Below we discuss the findings from shoppers and what you can do for your business to maximise security.
Shoppers Perceptions Of Signage
Shoppers did take notice of signage throughout the store. 85% noticed security signs hanging along isles. When asked what other security measures they spotted there was a mixed response.
Many noticed security measures on products themselves including banding on packaging, sensors on electrical items and anti-theft tags on items of clothing. Customers also noticed high value goods were placed inside locked cabinets or protective cases.
Of the people interviewed half of them said the signs did not affect their shopping experience inside the store. They felt safer with the signs being around. On the other hand survey results from convicted thieves say that they would not be deterred by security signage. 44 percent said the signage didn't bother them and the main deterrent would be if an employee was physically watching them in the store. Security signs alone are not enough to prevent crime so you must ensure you have a full security system in place. You can contact 1st Ace Security to discuss your security requirements.
Alternate Security Solutions
Using a combination of signage and surveillance cameras is the best way to ensure you are maximising your businesses safety. Below are some security tools worth investing in:
– Video Surveillance.  Security cameras enable you to capture footage of your store and ensure you can keep an eye on your property. Recorded footage can also help the police in investigations of theft or other incidents that occur.
– Monitored Alarms. Monitored alarms will notify you when break ins occur. 1st Ace Security offer a 24 hour monitored alarm system so you can feel your property is in safe hands always.
– Door Sensors. Installing door sensors will enable you to know when someone enters or leaves your premises.
– Mobile App. Integrate your system with a mobile app to alert you of an intruder.
If unwanted visitors are drawn to your property, it is important to have a system in place which can prevent them from entering your premises. Our NSI Gold approved team work throughout London, including the areas of South London, South East London and Central London, so if you are looking for a reliable method of access management, choose access control in Central London from 1st ACE Security.
Do you want to discuss how we can design a bespoke system tailored to match your exact requirements? Get in touch today to learn more about the security solutions we can provide. Visit or website 1st Ace Security or call us on 020 8290 5050.